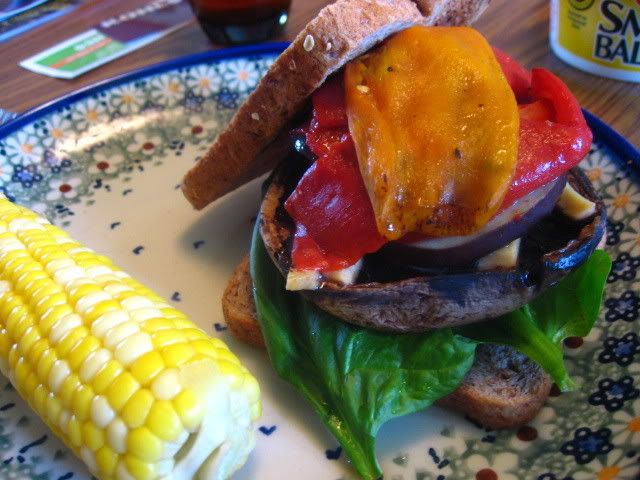 This monster is stacked high!! You need:
Portabella cap
Fire roasted peppers and their marinade (or fresh bell pepper slices and a good dressing/marinade).
Eggplant slices
Spinach
Sheese
Toasted bread
Marinade the portabella, peppers, and eggplant in a big baking dish. I used the marinade that the peppers were packed in, but any good marinade will do. Let soak for a MINIMUM of 10 minutes each side.
Cover dish (with lid or foil) and bake 375 for 10ish minutes. Take cover off and cook another 5 (or under mushroom is nice and soft. It will have shrunk a little.)
Assemble to your likings and grab a napkin!
This is one of those sandwiches that you have to hold on to and eat the entire thing because if you put it down you can never pick it all up again!
Super delicious.
*TIP: If you buy portabellas by the pound at stores, pull off their stem before you buy them! Ditchin` that weight saves you some cash!!